The margarita is the best and most common summertime drink that most people make at home.  Most people make basic mistakes when picking out their ingredients and when it is around the same price for the ingredients you want to use as well as around the same cost.  When you make the drink properly it will be more refreshing and you will impress your friends.
No Premade Mix
Don't use a premade margarita mix, EVER.  Even though it is a little easier, it is not easy enough for the tradeoff of a true margarita taste.  Buy a bag of limes, and squeeze them instead.  If you have a hand citrus juicer it wont take more than a couple of minutes.  The next thing you will need is sweetener.  You can buy simple syrup, make your own simple syrup, use superfine sugar, or agave nectar.  You might not even need this if you don't like your margarita's very sweet.
Tequila Choice
Buy a quality tequila.  You might have heard someone say there is so much flavor with a margarita you can use any low quality tequila and the flavor will be masked.  This just isn't true, especially when you are not using a harsh margarita mix.  Get a high quality silver or reposado for a quality cocktail, which will have a slight peppery taste that will enhance your margarita.  I would suggest not using an Añejo.  Añejo tequila has been aged and is perfect for sipping by itself and in a few other cocktails.
Orange Liqueur
The last key is what you are using for sweetness.  You can use triple sec, Cointreau, Gran Marnier, or a few other variations of orange liqueur that is out there.  I prefer Cointreau or Patron Citronge as my favorite two.  They all vary in sweetness and this is why you made not need any other added sweetener.
Salt
Use kosher salt, and not table salt to rim your glass.  This is simple but extremely important.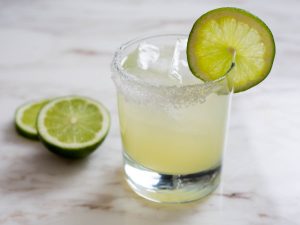 A recipe with everything you need
Clear ice cubes
3 ounces high quality tequila
2 ounces freshly squeezed lime juice
1 ounce simple syrup
1/2 to 1 teaspoon orange liqueur
Rub 1 lime wedge around glass and rim glass with kosher salt
garnish with lime wedge
Simple Syrup
1 cup water
1 cup superfine sugar (mix well)
Vaportini Margarita recipe
3 ounces of a high quality tequila
1/4-1/2 teaspoon of orange liqueur (this flavor will be strong in a Vaportini)
2 lime peels
Wet the end of the straw and dip it a tiny bit of kosher salt for when you inhale (optional)