How it Began
---
``A few years ago, I was visiting a friend in Helsinki. I was there during the Winter Solstice (The Season of Ghosts); he shared with me an unconfirmed tradition that happens on that date. We headed to his outdoor sauna with a group of friends and a bottle of vodka, he poured the vodka over the coals and we breathed in the vapors until we were sufficiently inebriated. We then went outside and rolled in the snow to "sober up" and headed back to the house to partake in the smorgasbord. About an hour or so later we headed back to the sauna with another bottle of vodka. The rest of the afternoon followed this cycle.`` - Julie Palmer
The Development
---
"It was such a unique experience that I wanted to share this with friends. Since I didn't have a sauna, I asked my dad, an engineer, to help with the development of the Vaportini. We went to American Science and Surplus and bought beakers, thermometers, and anything else that might assist in our Endeavour. We spent several interesting afternoons testing the best temperature for alcohol to evaporate from spirits. We also explored several ways to achieve and sustain that optimal temperate.
This lead to research in the heat density of many substances, diamonds have the highest heat density, but completely impractical. We settled on lead, but it had to be protected from human contact, for obvious reasons. I found a hollow stainless steel base that could be filled with lead. I worked with a local metal worker to fill them. The purchased glass vessels were modified, creating an air intake close to the surface of the spirits, insertion of a straw to inhale the evaporated alcohol, and insuring a close contact of the base to the glass vessel. I heated the bases in a small oven, filled the vessel with liquor, and placed it in the base. Within 5 minutes, the alcohol had evaporated from the spirits and was ready to inhale. A similar "sauna" experience was created."
– Julie Palmer (Owner / Inventor)
"Vaportini was created to provide a new way to consume spirits and bring people together"
---
Julie Palmer
Our Classic Vaportinis
---
This Complete Vaportini includes the Vaportini custom-etched pint glass. This model has also become very popular and is part of our classic flagship line of Vaportini. The Complete Vaportini also boasts a great price and provides all the essentials to impress your guests.
The Deluxe Vaportini Kit is part of our classic flagship line as well and has quickly become a best seller since its release. The deluxe kit includes everything necessary to start vaping and keep your Vaportini in great condition. The deluxe kit includes an assortment of accessories and makes for the best experience.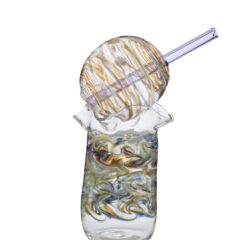 This Vaportini is a work of art.  The artist's series includes the Krypton Vaportini kit, travel bag, 5 candles, and 5 extra glass straws.
Mirador Glass was created by Bryan Raskin in 2003.  Located in Humboldt County, California.  It was established to create beautiful hand blown tableware.  The studio soon expanded to create lampshades and custom work.
Each Vaportini is hand blown by Bryan in the Mirador Glass gallery studio.
Handmade Vaportinis
---
In 2014, we developed the artist series to provide an elegant approach and offer Vaportinis with a personal touch. These Vaportinis are handmade and signed by a glass artist in Mckinleyville, California. The Artist Series will be available in limited quantities and we will constantly offer new variations as well.
If you are interested in a particular model or would like to share an idea for a future Vaportini please contact us through our online contact form or call our phone support line at (812) 264-6718.